Aiya!
Ya he terminado la guia para montar un servidor emulado bajo la version del wow 1.8.x
I've finished the guide to create a WoW server for the 1.8.x version.
Let's begin…
Information:
Tutorial version: 1.0
Emulator: WowwoW Emulator
Website of the WoW emulator: http://wowwow.game-host.org/index.php
1º Download the emulator:
Download the latest version of the emulator:
http://www.whgames.com/wowwow/WowwoWBeta0.1.exe
2º Extract it
Extract the emulator and download this configuration file:
http://rapidshare.de/files/7291676/WoWWoW_Configuration.rar.html
This file will help us to set up the server in a easy way so we don't have to deal with the configuration step.
3º Move the configuration files to the emulator folder
Copy the config files inside the emulator folder and execute the configurator. You'll see this: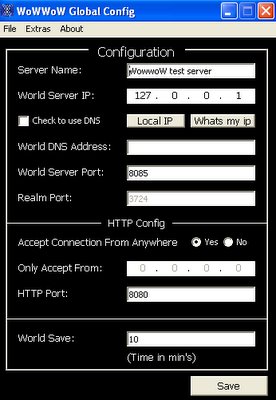 4º Edit the following fields
Server Name: The name you want to give to the server.
World Server IP: Select local ip.
And that's it. Click 'save' and you are done with the configuration!
5º set realmlist
Now go to the WoW installation folder, open the file realmlist.wtf and change the content to por 127.0.0.1
6º Launch the server
Now launch WowwoW.exe and wait 2 minutes until everything is set-up. After that, open the game and login with the default account username: admin password: changeme
And you'll be inside the game :)!
That's a GM account so your character will be able to execute GM commands. Teleporting and etc.
Cheers! feel free to ask any question below.